 
Asus RTN16 Wireless Router ความเร็ว 300Mbps 4 Port Gigabit พร้อม USB 2.0 รองรับ Thirdparty Firmware
อุปกรณ์ Wireless Router Asus RTN16 ความเร็ว 300 Mbps (802.11n) ย่านความถี่ 2.4 เสาอากาศ 3 ต้น พร้อม Switch 4 port ความเร็วระดับ Gigabit มี USB 2.0 X 2 รองรับ Third Party Firmware สามารถทำ Bittorrent Box ได้
Asus RTN16 Quick Starter Guide
Asus RTN16 Firmware 3003108
Product Specification

Overview

อุปกรณ์ Asus RTN16 Wireless Boardband Router ความเร็วสูงสุดถึง 300Mbps (IEEE 802.11n) ใช้งานได้ที่ย่านความถี่ 2.4 ใช้สำหรับแชร์ Internet ผ่านระบบสายสัญญาณ และ ไร้สาย


CPU

Broadcom4718A, 533 MHz (Factory clocked to 480MHz)

Flash Memory 32Mb, Ram 128Mb.

รองรับการ Update Third Party Firmware DD-WRT, Tomato เพื่อเพิ่มความสามารถของตัวอุปกรณ์ เช่นการทำ Network Attach Storage รองรับการทำ Bittorrent Box

WAN Port

1 Port เพื่อเชื่อมต่อกับ ADSL Modem (10/100/1000Mbps)

LAN Port

4 Gigabit Port เพื่อเชื่อมต่อกับระบบสายสัญญาณ (10/100/1000 Mbps)

USB Port

Port USB 2.0 จำนวน 2 Port

Security

MAC Address Filtering, URL Filtering, Stateful Packet Inspection (SPI)

64/128 WEP, WPA, WPA2 Up to 128-bit encryption

Web Based Management, Port Forwarding

VPN Pass Through (L2TP, PPTP)

Antenna

เสาอากาศภายนอกขนาด 3dBi จำนวน 3 ต้น

Output Power

n mode: 15.8~19.5dBm
g mode: 15.5~16.5dBm
b mode: 15.8~19.5dBm

Data Rate

802.11n Draft: up to 300Mbps ;
802.11g: 6, 9, 12, 18, 24, 36, 48, 54Mbps;
802.11b: 1, 2, 5.5, 11Mbps

W x H x D

216 x 161.9 x 40.5 mm

Weight

470g

Power

12 V / 1.5A

สินค้ารับประกัน 1 ปี
RT-N16 has enough bandwidth and processing power to simultaneously handle file transfers and downloads,
video streaming, games and VoIP calls. Advanced MIMO technology makes it all possible.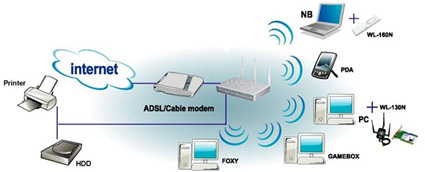 EZQoS – Easy Bandwidth Management

Simplified Setup Process
Press the WPS Button to easily set up a secure and protected wireless network.

AiDisk
Access and share your local disk everywhere! To share media content with friends, just open the browser,
type in your DDNS address (ex. ftp://YourName.asuscomm.com )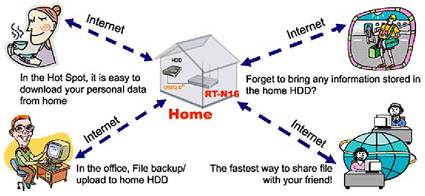 EZ All-In-One Printer
Sharing All-In-One Printer printing and scanning functions wirelessly for multiple user simultaneously without buying a printer server.
Easy installation! Just run the "ASUS Network Printer Setup" program and follow the instructions.
*For complete printer support list, please click here.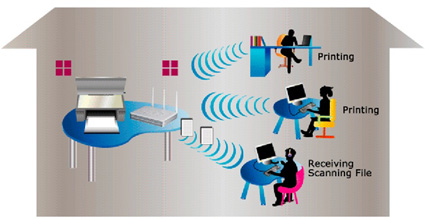 Enhanced Download Master
24/7 Non-Stop BT Download
HTTP, FTP, BT (BitTorrent) download protocols can be download automatically from the internet.
You can keep downloading even when PC is off.
Super speed for P2P download
RT-N16 can support up to 300,000 sessions for P2P download with super speed, allows more users and clients to connect to internet and ensures an ultra-stable network connection. Download Master, a unique technology found in ASUS wireless solutions, features several innovations to simplify the download process. Turn the RT-N16 router into a wireless storage center by attaching an external hard drive via USB 2.0. Download Master runs independent to the computer system, which means it takes up zero computing resource.