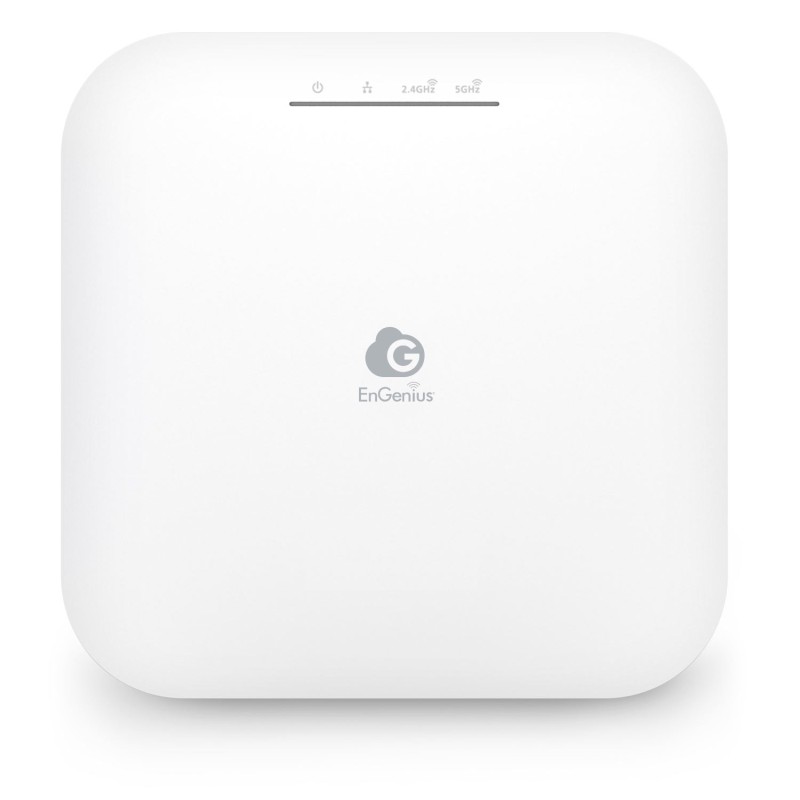  
EnGenius ECW230 Cloud Managed 802.11ax 4x4 Wireless Access Point 3.54Gbps
EnGenius ECW230 Cloud Managed 802.11ax WiFi 6 4x4 Indoor Wireless Access Point ความเร็วสูงสุด 3.54Gbps, Port Lan Multi-Gig 2.5Gbps
Cloud Network Management Datasheet
Cloud Managed Access Point Datasheet
Product Specification

Overview

EnGenius ECW230 Cloud Managed 802.11ax WiFi 6 4x4 Indoor Wireless Access Point ความเร็วสูงสุด 3.54Gbps, Port Lan Multi-Gig 2.5Gbps

Technical Specifications

Standards

IEEE 802.11ax on 2.4 GHz
IEEE 802.11ax on 5 GHz
vBackward compatible with 802.11b/g/n/ac

Processor

Qualcomm® Quad-Core ARM Cortex A53s @ 2.0GHz CPU

Antenna

4 x 2.4 GHz: 3 dBi
4 x 5 GHz: 3 dBi
Integrated Omni-Directional Antenna

Physical Interface

1 x 10/100/1000/2500 N-BASE-T, RJ-45 Ethernet Port
1x DC Jack
1 x Reset Button

LED Indicators

1 x Power
1 x LAN
1 x 2.4 GHz
1 x 5 GHz

Power Sourcev Power-over-Ethernet-802.3af Input

Power-over-Ethernet: 802.3at Input
12VDC /2A

Maximum Power Consumption

19.5W

Surge Protection

-

Wireless & Radio Specifications

Operating Frequency

Dual-Radio Concurrent 2.4 GHz & 5 GHz

Operation Modes

AP, Mesh

Frequency Radio

2.4 GHz: 2400 MHz ~ 2482 MHz
5 GHz: 5150 MHz ~ 5250 MHz, 5250 MHz ~ 5350 MHz, 5470 MHz ~ 5725 MHz, 5725 MHz ~ 5850 MHz

Transmit Power

Up to 23 dBm on 2.4 GHz
Up to 23 dBm on 5 GHz
(Maximum power is limited by regulatory domain)

Radio Chains/Spatial Stream

4x4:4

Tx Beamforming (TxBF)

SU-MIMO

Four (4) spatial stream SU-MIMO for 2.4GHz and four spatial stream SU-MIMO for 5GHz up to 3,548 Mbps wireless data rate to a single wireless client device under the both 2.4 GHz and 5GHz radio.

MU-MIMO

Four (4) spatial streams Multiple (MU)-MIMO for up to 2400 Mbps wireless data rate to transmit to two (2) two streams MU-MIMO 11ax capable wireless client devices under 5GHz simultaneously.

Two (2) Multiple (MU)-MIMO for up to 574 Mbps wireless data rate to transmit to one(1) two streams MU-MIMO 11ax capable wireless client devices under 2.4GHz simultaneously.

Four (4) Multiple (MU)-MIMO for up to 1,148 Mbps

wireless data rate to transmit to two streams MUMIMO 11ax capable wireless client devices under 2.4GHz simultaneously.

Supported Data Rates (Mbps):

802.11ax:
2.4 GHz: 9 to 1148 (MCS0 to MCS11, NSS = 1 to 4)
5 GHz: 18 to 2400 (MCS0 to MSC11, NSS = 1 to 4)
802.11b: 1, 2, 5.5, 11
802.11a/g: 6, 9, 12, 18, 36, 48, 54
802.11n: 6.5 to 600 Mbps (MCS0 to MCS31)
802.11ac: 6.5 to 1733 Mbps (MCS0 to MCS9, NSS = 1 to 4)

Supported Radio Technologies

802.11ax: Orthogonal Frequency Division Multiple Access (OFDMA)
802.11b: Direct-sequence spread-spectrum (DSSS)
802.11ac/a/g/n: Orthogonal Frequency Division Multiple (OFDM)

Channelization

802.11ax supports very high throughput (VHT) —VHT 20/40/80 MHz
802.11ac supports very high throughput (VHT) —VHT 20/40/80 MHz
802.11n supports high throughput (HT) —HT 20/40 MHz
802.11n supports very high throughput under the 2.4GHz radio –VHT40 MHz (256-QAM)
802.11n/ac/ax packet aggregation: A-MPDU, A-SPDU

Supported Modulation

802.11ax: BPSK, QPSK, 16-QAM, 64-QAM, 256-QAM, 1024-QAM
802.11ac: BPSK, QPSK, 16-QAM, 64-QAM, 256-QAM
802.11a/g/n: BPSK, QPSK, 16-QAM, 64-QAM
802.11b: BPSK, QPSK, CCK

Management Features

Multiple BSSID

support 8 SSIDs on both 2.4GHz and 5GHz

VLAN Tagging

Supports 802.1q SSID-to-VLAN Tagging
Cross-Band VLAN Pass-Through
Management VLAN

Spanning Tree

Supports 802.1d Spanning Tree Protocol

QoS (Quality of Service)

Complaint With IEEE 802.11e Standard
WMM

SNMP

v1, v2c, v3

MIB

I/II, Private MIB

Wireless Security

WPA3
WPA2 Enterprise (AES)
WPA2 AES-PSK
Hide SSID in Beacons
MAC Address Filtering, Up to 32 MACs per SSID
Wireless STA (Client) Connected List
SSH Tunnel
Client Isolation

Environmental & Physical

Temperature Range

Operating: 32ºF~104ºF (0ºC~40ºC)
Storage: -40ºF~176 ºF (-40ºC~80ºC)

Humidity (non-condensing)

Operating: 90% or less
Storage: 90% or less

Dimensions & Weight

ECW230 Device

Weight: 1.31 lbs. (597 g)
Length: 8.27" (210 mm)
Width: 8.27" (210 mm)
Height: 1.31" (33.2 mm)

Packaging

Weight: 1.96 lbs. (891 g)
Length: 9.65" (245 mm)
Width: 9.65" (245 mm)
Height: 3.35" (85 mm)

Package Contents

1 - ECW230 Cloud Managed Indoor Access Point
1 – Ceiling Mount Base (9/16" Trail)
1 – Ceiling Mount Base (15/16" Trail)
1 - Ceiling and Wall Mount Screw Kits
1 - Quick Installation Guide

Certifications

FCC
CE

Warranty

2 ปี
Wi-Fi Heat Maps for Access Point Monitoring in Real Time
The included ezWi-Fi Planner accepts an upload of your floor plan and simulates Wi-Fi coverage with a heat map of the current Tx power and channel, factoring in physical obstacles and other impediments to your coverage.
Layer-7 Application-Aware Traffic Dashboard
EnGenius Cloud access points have a Layer 7 DPI engine embedded to collect application traffic information right at the source, eliminating the need to add a separate L7 traffic box and removing a potential speed bottleneck.
Investigate Troublesome Clients with Device Timeline
IT managers can pull up an entire device's history using client MAC addresses or serial numbers. Get the AP currently connected to the device, authentication status, and the time required to roam to another AP.
Real-Time Device Status for Diagnosis
EnGenius Cloud observes the CPU/memory utilization rate in real time. Compare with historical statistics to determine whether a device should be reset or just monitored for future problems.
Real-time Notifications On the Go
The EnGenius Cloud mobile app offers highly customizable notifications for users to pinpoint and rectify issues at their source, fast.

Data sheet
ลักษณะงาน Wireless

กระจายสัญญาณ WIFI

ความเร็ว Wireless

WIFI-6 (802.11ax: 1.2Gbps+)

ย่านความถี่

Dual-Band 2.4/5GHz

รองรับ Controller

Cloud Controller

The AI-Driven Cloud for Smart Networking
EnGenius Cloud is built on top of the most advanced cloud computing technology. Scalable and AI-ready, the robust and dynamic cloud computing infrastructure helps you work smart on your network with important analytics and visualization tools.
Why EnGenius Cloud

จัดการหลาย ๆ เว็บไซต์ได้อย่างง่ายดาย

No need for costly site visits or onsite support

GUI ที่ช่วยให้การแก้ไขปัญหาที่ง่ายและแม่นยำ

Provides real-time & historical visibility of network devices

รองรับการ Remote บริหารจัดการอุปกรณ์

Coordinate repetitive updates with scheduled maintenance

Simultaneous Updates for Distributed Devices

Save time and avoid
downtime & risk
Work Smart with EnGenius Cloud
Experience unprecedented ease and efficiency in network management. From deployment to monitoring and troubleshooting, the end-to-end Cloud Solution helps you achieve more.

Next-Generation True Cloud for High Stability and Scalability
Most Advanced Server-less Cloud Infrastructure

No more server boundaries

FaaS : Function-as-a-Service




with Dynamic Allocation

Each function has its own scalability and works together seamlessly

99.99 Reliability SLA Guaranteed

Your network is always available
Secured Cloud Deployment for User Data
บริหารจัดการอุปกรณ์ Engenius ในเครือข่ายง่ายแค่ปลายนิ้ว
Easy device deployment, visualized monitoring, and alerts for abnormal network activity available within an intuitive mobile app.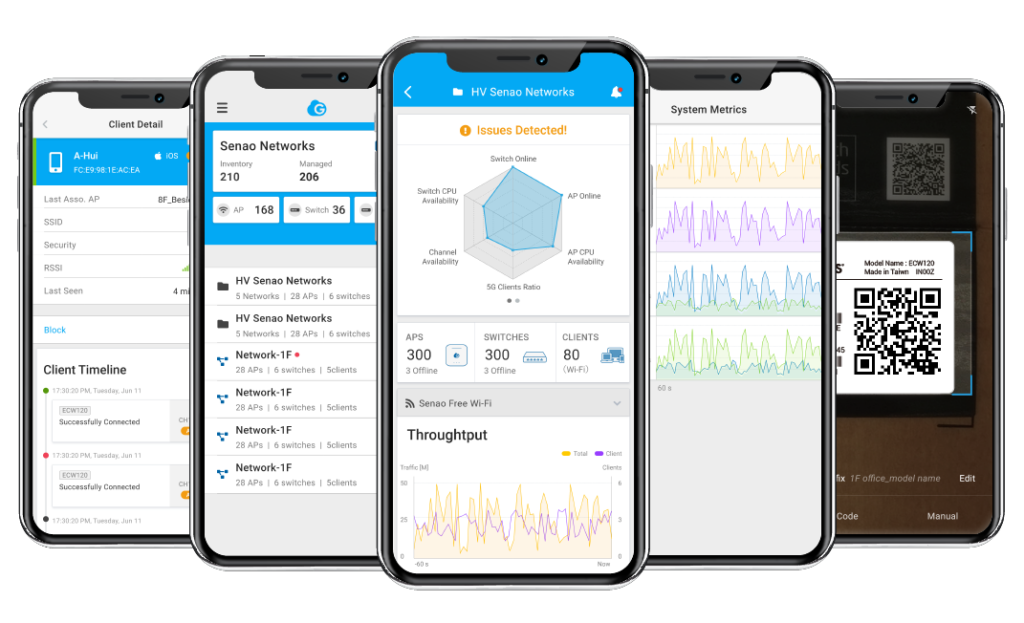 Versatile Portfolios of Cloud Managed Devices
ด้วยเทคโนโลยีล่าสุด และ Platform อุปกรณ์ Switching งที่น่าเชื่อถือ EnGenius Cloud ภูมิใจนำเสนออุปกรณ์เครือข่ายที่มีการจัดการประสิทธิภาพสูงรวมถึง Access Point รุ่นที่รองรับ WIFI มาตรฐาน Wi-Fi 6 ที่พิสูจน์ได้ในอนาคตและ Switch Gigabit PoE พร้อม Port SFP