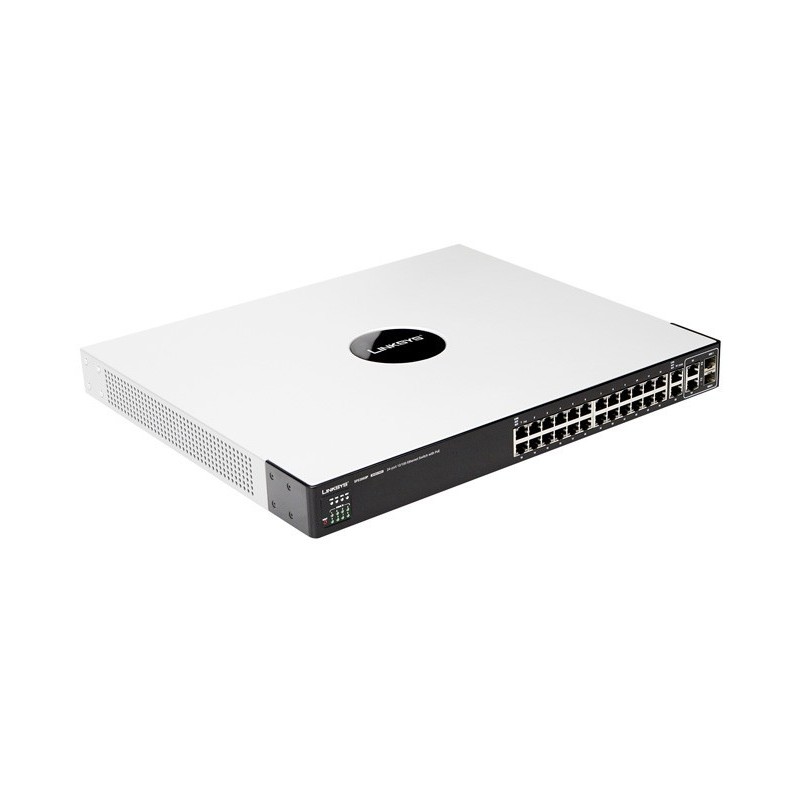  
Cisco SFE2000 Layer3 Managed Switch 24 Port 10/100Mbps และ 4 Port Gigabit with WebView
สินค้ายกเลิกการผลิต
Cisco SFE2000 Switch 24 Port 10/100 Mbps, 4 Port Gigabit, 2 Port SFP รองรับ VLANs, QOS, 802.1x, Mac Filtering และการทำงานระดับ Layer 3
Specifications

Ports

• 24 RJ-45 connectors for 10BASE-T/100BASE-TX

• Four 10BASE-T/100BASE-TX/1000BASE-T with 2 Gigabit combo ports

• Shared between mini Gigabit Interface Converter (mini-GBIC) ports

• Auto medium dependent interface (MDI) and MDI crossover (MDI-X)

• Auto negotiate/manual setting

• RPS port for connecting to redundant power supply unit

Buttons

Reset button

Cabling type

Unshielded twisted pair (UTP) Category 5 or better for 10BASE-T/100BASE-TX, UTP Category 5 Ethernet or better for 1000BASE-T

LEDs

PWR, Fan, Link/Act, Speed, RPS, Master, Stack ID 1 through 8

Performance

Switching capacity

Up to 12.8 Gbps, nonblocking

Forwarding rate
(based on 64-byte packets)

Up to 9.5 mpps

Stacking

Stack operation

• Up to 8 units in a stack (192 ports)
• Hot insertion and removal
• Ring and chain stacking options
• Master and backup master for resilient stack control
• Auto-numbering or manual configuration of units in stack

Layer 2

MAC table size

8000

Number of VLANs

256 active VLANs (4096 range)

VLAN

• Port-based and 802.1Q tag-based VLANs

• Protocol-based VLAN
• Management VLAN
• Private VLAN Edge (PVE)
• GVRP

Head-of-line (HOL) blocking

HOL blocking prevention

Layer 3

Layer 3 options

• Static routing
• Classless interdomain routing (CIDR)
• 128 static routes
• IPv4
• Forwarding in silicon-wire-speed forwarding of Layer 3 traffic

IPv6

IPv6

IPv6 Host Mode
IPv6 over Ethernet
Dual IPv6/IPv4 stack
IPv6 Neighbor and Router Discovery (ND)
IPv6 Stateless Address Autoconfiguration
Path MTU Discovery
Duplicate Address Detection (DAD)
ICMPv6
IPv6 over IPv4 network with ISATAP tunnel support

IPv6 QoS

Prioritize IPv6 packets in hardware

IPv6 ACL

Drop or Rate Limit IPv6 packets in hardware

MLD Snooping

Deliver IPv6 multicast packets only to the required receivers

IPv6 Applications

Web/SSL, Telnet Server/SSH, Ping, Traceroute, SNTP, TFTP, Radius, Syslog, DNS Client

IPv6 RFCs Supported

RFC2463 - ICMPv6
RFC3513 - IPv6 Address architecture
RFC 4291 - IP Version 6 Addressing Architecture
RFC 2460 - Internet Protocol v6 (IPv6) Specification
RFC 2461 - Neighbor Discovery for IPv6
RFC 2462 - IPv6 Stateless Address Auto-configuration
RFC 1981 - Path MTU Discovery
RFC 4007 - IPv6 Scoped Address Architecture
RFC3484 - Default address selection mechanism is described by RFC3484
RFC4214 - ISATAP tunneling
RFC4293 - MIB IPv6: Textual Conventions and General Group
RFC 3595 - Textual Conventions for IPv6 Flow Label

Management

Web user interface

Built-in web user interface for easy browser-based configuration (HTTP/HTTPS)

SNMP

SNMP version 1, 2c, 3 with support for traps

SNMP MIBs

• RFC1213 MIB-2, RFC2863 interface MIB, RFC2665 Ether-like MIB
• RFC1493 Bridge MIB, RFC2674 Extended Bridge MIB (P-bridge, Q-bridge)
• RFC2819 RMON MIB (groups 1, 2, 3, 9 only), RFC2737 entity MIB
• RFC3621 Power Ethernet MIB, RFC 2618 RADIUS client MIB, RFC 1215 traps

RMON

Embedded RMON software agent supports four RMON groups (history, statistics, alarms, and events) for enhanced traffic management, monitoring, and analysis

Firmware upgrade

• Web browser upgrade (HTTP) and Trivial File Transfer Protocol (TFTP)
• Dual images for resilient firmware upgrades

Port mirroring

Traffic on a port can be mirrored to another port for analysis with a network analyzer or RMON probe

Other Management

• Traceroute
• Single IP management
• SSL security for web user interface
• SSH
• RADIUS
• Port mirroring
• TFTP upgrade
• Dynamic Host Configuration Protocol (DHCP) client
• BOOTP
• Simple Network Time Protocol (SNTP)
• Xmodem upgrade
• Cable diagnostics
• Ping
• Syslog
• Telnet client (SSH secure support)

Security

IEEE 802.1X

• 802.1X - RADIUS authentication; MD5 hash
• Guest VLAN
• Single/multiple host mode

Access control

• ACLs - drop or rate limit based on:
• Source and destination MAC-based
• Source and destination IP address
• Protocol
• Port
• VLAN
• Differentiated services code point (DSCP)/IP precedence
• TCP/ User Datagram Protocol (UDP) source and destination ports
• 802.1p priority
• Ethernet type
• Internet Control Message Protocol (ICMP) packets
• Internet Group Management Protocol (IGMP) packets
• Up to 1018 rules

Availability

Link aggregation

• Link aggregation using IEEE 802.3ad Link Aggregation Control Protocol (LACP)
• Up to 8 ports in up to 8 groups

Storm control

Broadcast and multicast storm protection

DoS prevention

DoS attack prevention

Spanning Tree

IEEE 802.1D Spanning Tree, IEEE 802.1w Rapid Spanning Tree, IEEE 802.1s Multiple Spanning Tree, Fast Linkover

IGMP snooping

IGMP (v1/v2) snooping limits bandwidth-intensive video traffic to only the requestors. Supports 256 multicast groups

QoS

Priority levels

4 hardware queues

Scheduling

Priority queuing and weighted round-robin (WRR)

Class of service

• Port based
• 802.1p VLAN priority based
• IPv4 IP precedence/ToS/DSCP based
• DiffServ
• Classification and remarking ACLs

Rate limiting

• Ingress policer
• Egress rate control

Standards

• 802.3 10BASE-T Ethernet, 802.3u 100BASE-TX Fast Ethernet
• 802.3ab 1000BASE-T Gigabit Ethernet, 802.3z Gigabit Ethernet
• 802.3x flow control, 802.3ad LACP, 802.3af Power over Ethernet (PoE)
• 802.1d Spanning Tree Protocol (STP)
• 802.1Q/p VLAN, 802.1w Rapid STP, 802.1s Multiple STP
• 802.1X port access authentication

Environmental

Dimensions
W x H x D

17.32 x 14.7 x 1.73 in.
(440 x 375 x 44 mm)

Unit weight

9.68 lb (4.39 kg)

Certification

UL (UL 60950), CSA (CSA 22.2), CE Mark, FCC Part 15 (CFR 47) Class A

Operating temperature

32º to 104ºF (0 to 40ºC)

Storage temperature

-4º to 158ºF (-20 to 70ºC)

Operating humidity

10% to 90% relative humidity,

Storage humidity

10% to 95% relative humidity, noncondensing

Number of fans

1

Acoustic noise

50 dB max.

Power

100-240V AC, 50-60 Hz, internal, universal; also equipped with redundant power supply connector for external power supply, 48V DC

Power consumption

12V@4.5A (54W)

Package Contents

• Cisco SFE2000 24-Port 10/100 Ethernet Switch
• Console cable
• AC power cord
• Rack-mount kit
• Quick installation guide

Minimum Requirements

• Web-based utility: web browser (Mozilla Firefox 1.5 or later, Internet Explorer 5.5 or later, Netscape 7.01 or later)
• Category 5 Ethernet network cables
• Operating system: Windows 2000, XP, or later

Product Warranty รับประกัน อุปกรณ์ 5 ปี EOS , Adapter 3 เดือน


Limited lifetime warranty with return to factory replacement, one year telephone support and software fixes for the warranty term.