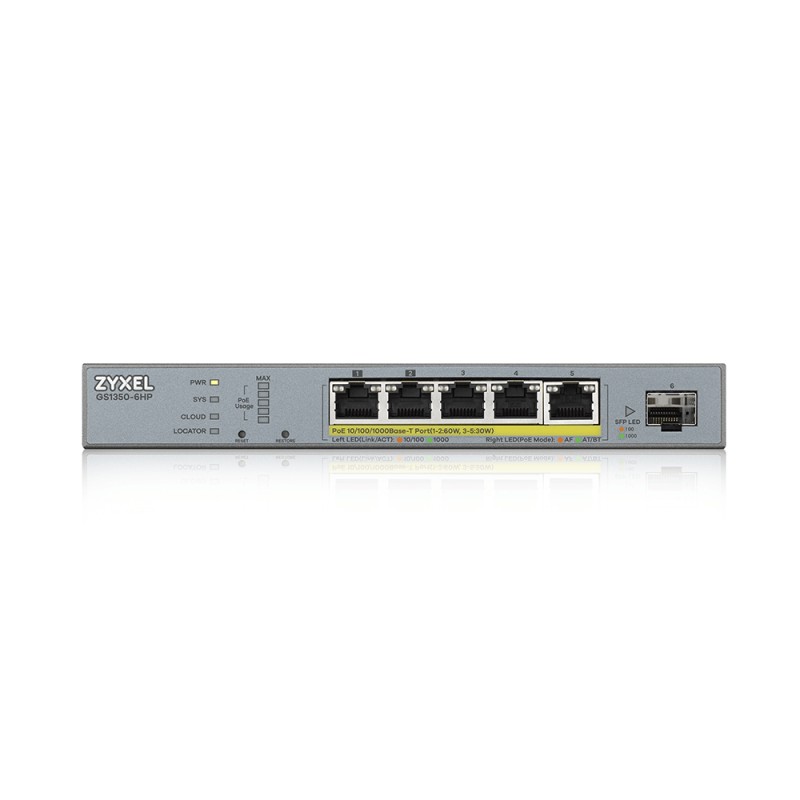  
Zyxel GS1350-6HP Smart Managed PoE Switch 5 Port Gigabit 802.3bt 60W
Zyxel GS1350-6HP Smart Managed PoE Switch 5 Port Gigabit จ่ายไฟ 5 Port มาตรฐาน 802.3at/bt 60W, 1 Port SFP, รองรับสาย Lan ได้สูงถึง 250 เมตร, VLAN 802.1q, STP
Zyxel Switch 1350 Series Datasheet
Zyxel Switch 1350 Series Quick Install Guide
Zyxel Switch 1350 Series User Guide
คู่มือ Config VLAN Switch Zyxel GS1350 Series
Zyxel GS1350-6HP Product Specification

Overview

Zyxel GS1350-6HP Smart Managed PoE Switch 5 Port Gigabit จ่ายไฟ 5 Port มาตรฐาน 802.3at/bt 60W

Mode Extended Range รองรับสาย Lan ได้สูงถึง 250 เมตร

รองรับการทำ VLAN 802.1q, RSTP

Product name

5-port GbE Smart Managed PoE Switch with GbE Uplink

Switch class

Smart Managed

Total port count

6

100/1000 Mbps

5

Gigabit SFP

1

Gigabit combo (RJ-45/SFP)

-

Configurable extended range ports

5

PoE ports

5

Total PoE budget (watt)

60

PoE Standard

802.3af/at
802.3bt (port 1-2)

Switching capacity (Gbps)

12

Forwarding rate (Mpps)

8.9

Packet buffer (byte)

525 K

MAC address table

8 K

Input

52 V - 57 V DC

Max. power consumption (watt)

72

Dimensions (WxDxH)(mm/in.)

193 x 84 x 26 /
7.6 x 3.31 x1.02

Weight (kg/lb.)

0.41/0.9

Included accessories

Ethernet port surge protection

4 KV

Power supply surge protection: Line-GND

4 KV

Power supply surge protection: Line-Line

2 KV

Ethernet port ESD protection (air/contact)

15 KV/8 KV

Operating

Temperature -20°C to 50°C/-4°F to 122°F
Humidity 5% to 95% (non-condensing)

Storage

Temperature -40°C to 70°C/-40°F to 158°F
Humidity 5% to 95% (non-condensing)

MTBF (hr)

2,021,885.87

Heat dissipation (BTU/hr)

245.52

Acoustic noise @ 25°C (dBA)

0 (Fanless)

Item

Features

Standard Compliance

IEEE 802.3 10Base-T Ethernet
IEEE 802.3u 100Base-Tx Ethernet
IEEE 802.3ab 1000Base-T Ethernet
IEEE 802.3z 1000 Base-X
IEEE 802.3x flow control
IEEE 802.3af PoE
IEEE 802.3at PoE plus
IEEE 802.3bt (GS1350-6HP)
IEEE 802.3az EEE support / Green Ethernet
IEEE 802.1p CoS support

Resilience and Availability

IEEE 802.1D Spanning Tree Protocol (STP)
IEEE 802.1w Rapid Spanning Tree Protocol (RSTP)
IEEE 802.3ad LACP (Max # Trunks/Links per Trunk):
GS1350-6HP: 3/6GS1350-12HP: 6/8
GS1350-18HP: 8/8
GS1350-26HP: 8/8
Loop guard
Dual configuration files
Dual images

Traffic Control

802.1Q Static VLANs: 256
Port-based VLAN
Voice VLAN
MAC-based VLAN
Vendor ID based VLAN
VLAN Trunking
LACP algorithm of source/destination IP

Security

Layer 2 MAC filtering
Static MAC forwarding
SSH v2
SSL
Port isolation
CPU protection
SHA2 HTTPS Certification
Login authentication by RADIUS
RADIUS accounting
Authorization on RADIUS
Multiple RADIUS servers
DHCP Snooping

Quality of Service (QoS)

802.1p queuing methods: SPQ, WRR, WFQ
Storm control: broadcast, multicast, unknown unicast (DLF)
Port-based rate limiting (ingress/egress)
802.3x flow control
802.1p Class of Service (SPQ, WFQ, SPQ/WFQ combination capable)
DiffServ (DSCP)

Layer 2 Multicast

L2 Multicast
Static L2 Multicast Forwarding
IGMP snooping (v1,v2,v3)
IGMP snooping normal leave
IGMP snooping fast leave
Configurable IGMP snooping timer and priority
IGMP snooping statistics
IGMP throttling
IGMP filtering
IGMP querier mode
IGMP proxy mode & snooping mode selection

Manageability

SNMP v1,v2c, v3
SNMP trap group
RMON (1,2,3,9)
ICMP echo/echo reply
Syslog
Display port utilization
IEEE 802.1AB LLDP
IEEE 802.1AB LLDP-MED
Custom default

PoE Management

Power-up mode selection
Scheduled PoE
Neighbor PD detection
Auto PD recovery
Continuous PoE
Extended range*
PoE consumption/classification modes
Port PoE Priority
Customizable maximum power per port
PoE Wide range detection
LLDP-Power via MDI
* Extended range excels long range installation but the actual performance may be effected by cabling quality or IP camera's electrical design. We recommend users to test for IOP before physical deployment. Contact Zyxel for IP camera's interoperability report.

IPv6 Management

IPv6 over Ethernet (RFC 2464)
IPv6 addressing architecture (RFC 4291)
Dual stack (RFC4213)
ICMPv6 (RFC4884)
Path MTU (RFC 1981)
Minimum Path MTU size of 1280 (RFC 5905)
Encapsulation for maximum PMTU size of 1500
Neighbor Discovery (RFC4861)

Device Management

Web interface
Setup Wizard
Full managed CLI through Telnet/SSHv2
Management through Web, SNMP
Remote firmware upgrade by FTP/Web
Configuration saving and retrieving
Configure clone
DHCP client
DHCP relay per VLAN
Daylight saving
NTP (IPv4/IPv6)
Port mirroring
Restore to last custom default

MIB

Zyxel private common MIB
RFC 1066 TCP/IP-based MIB
RFC 1213, 1157 SNMPv2c/v3 MIB
RFC 1493 bridge MIB
RFC 1643 Ethernet MIB
RFC 1757 RMON group 1,2,3,9
RFC 2011, 2012, 2013 SNMPv2 MIB
RFC 2233 SMIv2 MIB
RFC 2358 Ethernet-like MIB
RFC 2674 bridge MIB extension
RFC 2819, 2925 Remote Management MIB
RFC 3621 Power Ethernet MIB
RFC 4293 Management Information Base (MIB) for IP
RFC 4292 IP forwarding table MIB
RFC 4022 management information base for transmission control protocol
RFC 4113 management information base for user datagram protocol

Zyxel One Network

ZON Utility
Discovery of Zyxel switches, APs and gateways
Centralized and batch configurations:
IP configurationIP renew
Device factory reset
Device reboot
Device locating
Web GUI access
Password configuration
One-click quick association with Zyxel AP Configurator (ZAC)
Automatic detection of the latest firmware
Displays device serial number and hardware version
Cloud mode on/off option for Hybrid series devices
Smart Connect
Discover neighboring devices
One-click remote management access to the neighboring Zyxel devices
Reset neighboring devices remotely to factory defaults
Power cycle neighboring powered devices (PoE switches only)

Certifications

EMC:
CE, FCC, C-Tick, Class ABSMI CNS13438
Safety:
LVD EN62368-1BSMI CNS14336-1
RoHS compliant

Installation Features

Ethernet port lightning surge protection
Power supply lightning surge protection
ESD(electrostatic discharge) protection
Extended range of up to 250 meters*
Fixed link speed at 10 MbpsLimited to 802.af PDs and cameras* Extended range excels long range installation but the actual performance may be effected by cabling quality or IP camera's electrical design. We recommend users to test for IOP before physical deployment. Contact Zyxel for IP camera's interoperability report.
Introducing Zyxel Surveillance Switch
Zyxel Surveillance Switch: Introducing Auto Camera Recovery
Zyxel Surveillance Switch: Introducing Extended Range Mode
Just For Surveillance
New outlook
Coated in titanium grey, the GS1350 excels with an eye-catching identity dedicated for surveillance Switch.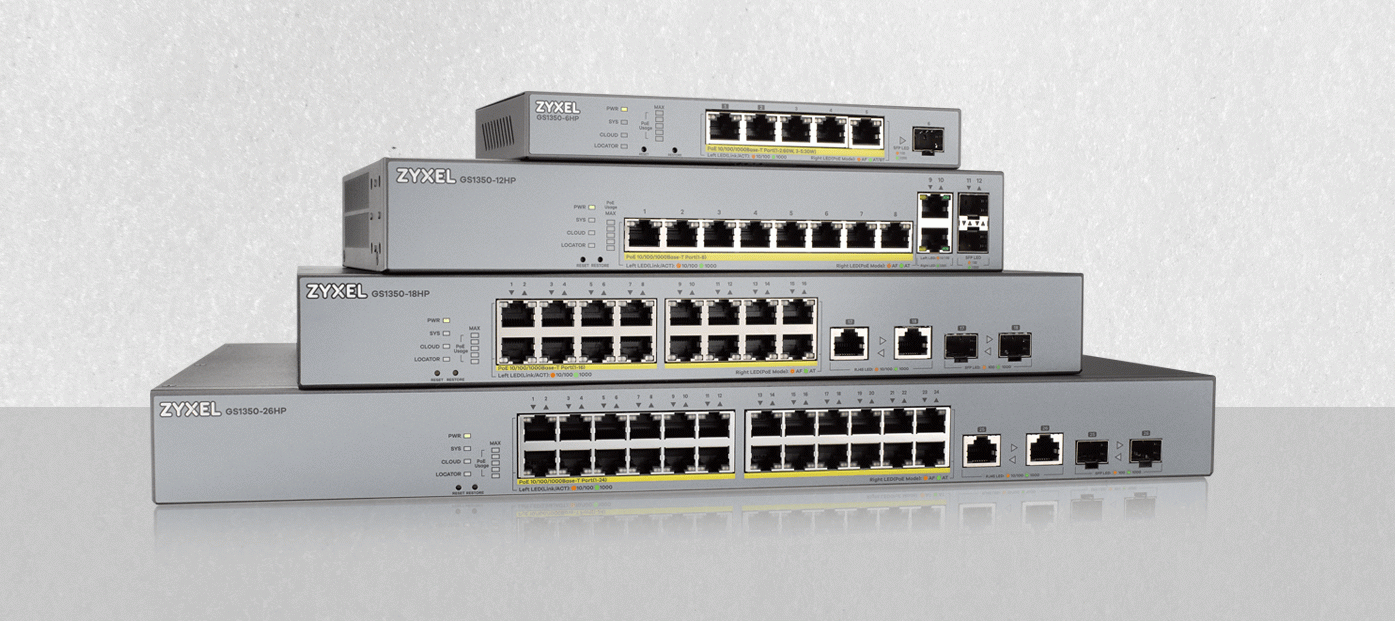 Specialized PoE software features for surveillance
Detect and recover failed IP cameras and powered devices automatically with customizable granular parameters suitable for any types of devices and scenarios.
Delivers nonstop power to keep cameras in operation, even if switch under-goes maintenance for firmware or configuration updates, significantly reducing reboot time.
Easy for long-distance deployment
Traditionally, PoE switch delivers power and data within the distance of the 100 meter limitation. The GS1350 series fulfills the need to deploy IP camera or power devices using existing Cat 5e cable to distant locations. By enabling extended-range mode, instantly achieve distant deployments up to 250m. Save your money and effort with simply one PoE.

High power budget, intuitive front panel design
The GS1350 series includes four models with large power budgets of up to 375 W accommodating the requirement for powering up multiple IP cameras. The intuitive LED indicator on the front panel allows inspecting real-time PoE status. In addition, the one-touch "Restore" button on GS1350 Series helps effortless recovery from misconfigurations.

Unique hardware, robust design
Stabilized power
Filters electrical noise and surge to ensure supplying stable power to PoE and the system.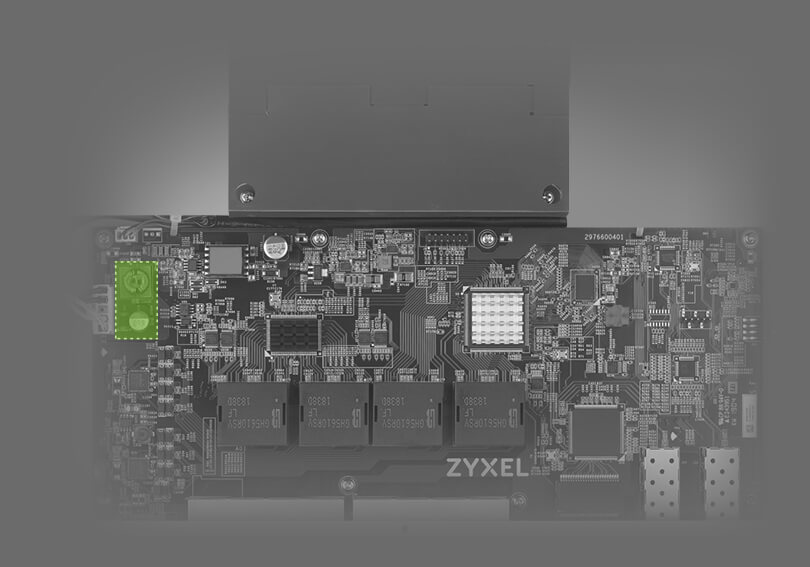 Selected power supply
2X Surge and ESD protection.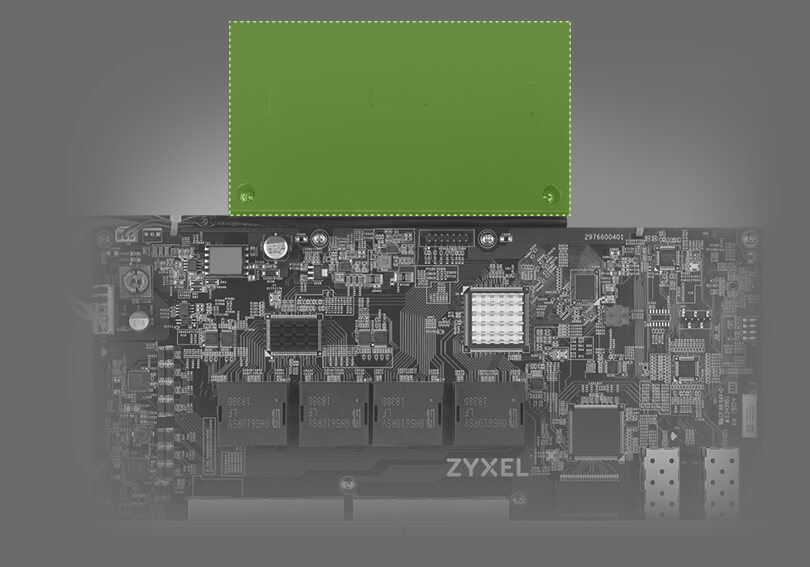 Isolated Circuit Design
Provides protection to isolate power surges from Ethernet and power supply.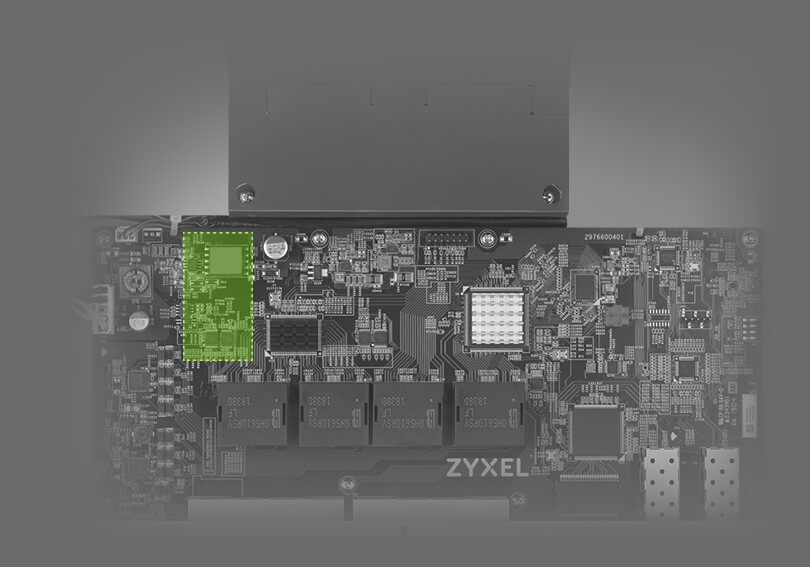 Intelligent System Monitor
Keeps the system operational from anomalies.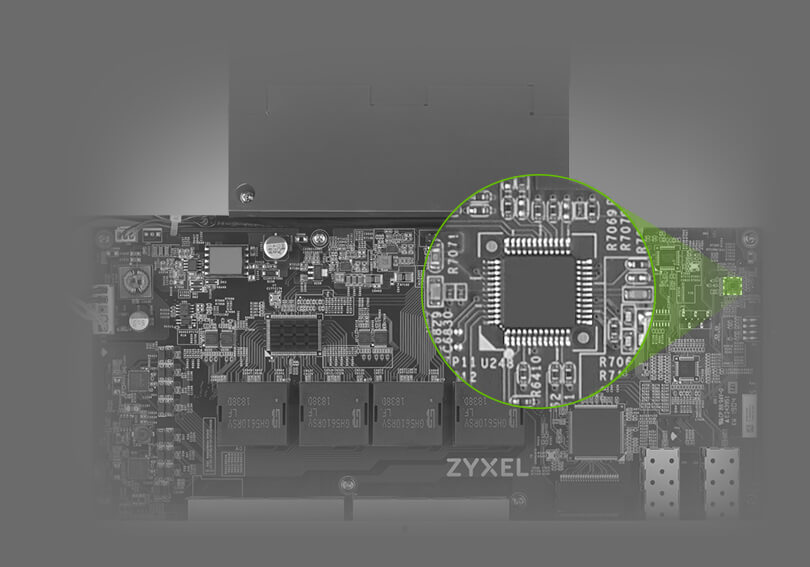 Patented Ethernet Protection
4X Surge protection.
2X ESD resistant.