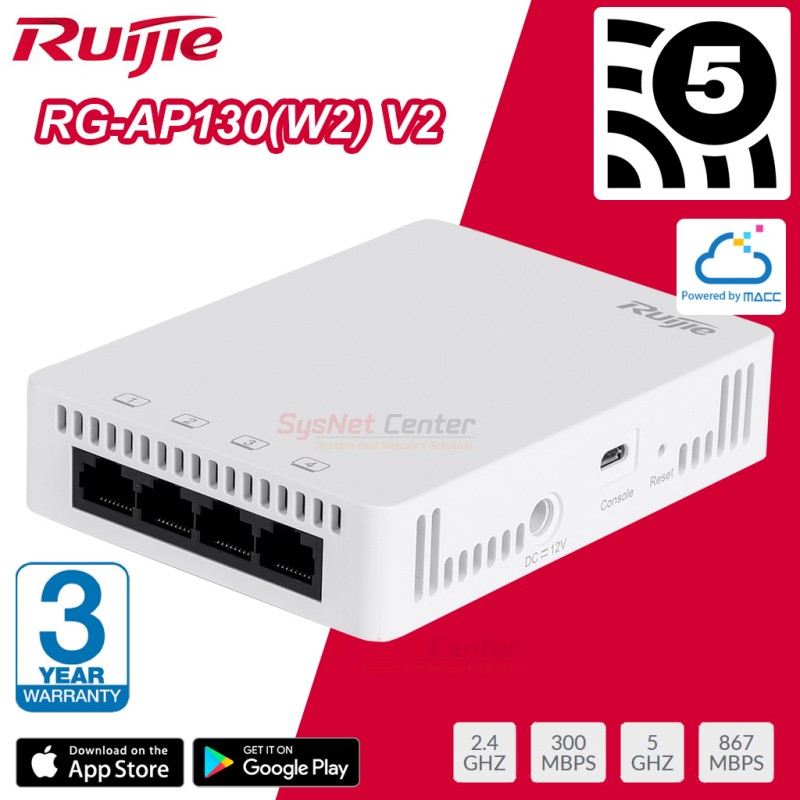  
Ruijie RG-AP130(W2) V2 Wall Access Point AC Wave 2, 1.167Gbps, 4 Port Gigabit, Cloud Control
Ruijie RG-AP130(W2) V2 Wall-Mountable Wireless AP AC Dual-Band 2x2 MU-MIMO ความเร็วสูงสุด 1.167Gbps, 4 Port Lan Gigabit, รองรับการ Control แบบ Stanalone, Free Cloud Control, Hardware Control
Review ระบบ Controller Managed & Monitor อุปกรณ์ Ruijie ผ่าน Cloud
Free! โปรแกรมออกคูปอง Voucher ใช้งาน Internet ทั้ง Windows และ Android
Ruijie RG-AP130(W2) V2 Datasheet
Ruijie RG-WLAN Series Access Points RGOS Configuration Guide
Ruijie RG-WLAN Series Access Points Web-based Configuration Guide
Ruijie RG-WLAN Series Access Points RGOS Command Reference
Tolly Test Report - Ruijie Cloud and Wireless Performance Evaluation
Product Specification

Overview

Ruijie RG-AP710 Wireless Access Point มาตรฐาน AC 2x2 MU-MIMO Dual-Band กระจาย 2 ย่านความถี่ ความเร็วสูงสุด 1.167Gps

1 Port Lan Gigabit รองรับ POE มาตรฐาน 802.3af

รองรับการทำ Authenticate แบบ Captive Portal, Social Login

Manage และ Monitor ผ่าน Cloud, Standalone และ Hardware Control

พร้อม Ruijie Cloud License แบบ Lifetime

Type

Wall-mounting

Radio

Concurrent dual-band dual-radio

Protocol

802.11a/b/g/n
802.11ac Wave 1
802.11ac Wave 2

Operating Bands

2.4GHz and 5GHz

Antenna

Built-in omnidirectional antenna
2x2 MU-MIMO

Max Throughput

1,167Mbps

Spatial Streams

2 x 2

Modulation

11b: DSS:CCK@5.5/11Mbps, DQPSK@2Mbps, DBPSK@1Mbps
11a/g: OFDM:64QAM@48/54Mbps, 16QAM@24Mbps, QPSK@12/18Mbps, BPSK@6/9Mbps
11n: MIMO-OFDM: BPSK, QPSK, 16QAM, 64QAM
11ac: MIMO-OFDM: BPSK, QPSK, 16QAM, 64QAM, 256QAM

Maximum Transmit Power

≤100mW (20dBm, transmit power of the RF card only)

IP Rating

IP41

Ports

Front:
4 10/100/1000M Ethernet ports
Side:
1 RJ-45 port (RJ-11 combo)
Rear:
1 10/100/1000M uplink port
1 RJ-45 pass-through port (RJ-11 combo)

Management Port

1 console port (Micro USB)

Lock

Standard: Anti-theft screws and ordinary screws
Optional: Lock and key

Color Plate Cover Options

White, black, silver and gold

LED Indicators

1 LED status indicator

Maximum clients per AP

Up to 32

BSSID capacity

Up to 8 per radio
Up to 16 per AP

SSID hiding

Support

Configuring the authentication mode, encryption mechanism, and VLAN attributes for each SSID

Support

Remote Intelligent Perception Technology (RIPT)

Support

Intelligent identification of smart device

Support

Intelligent load balancing based on the number of users or traffic

Support

STA control

SSID/radio-based

Bandwidth control

STA/SSID/AP-based speed control

PSK, Web, 802.1x authentication

Support

Data encryption

WPA (TKIP), WPA2 (AES), WPA-PSK, and WEP (64 or 128 bits)

QR code authentication

Support

SMS authentication

Support

PEAP authentication

Support

Data frame filtering

Whitelist, static/dynamic blacklist

User isolation

Support

Rogue AP detection and countermeasure

Support

Dynamic ACL assignment

Support

RADIUS

Support

CPU Protection Policy (CPP)

Support

Network Foundation Protection Policy (NFPP)

Support

Wireless Intrusion Detection System(WIDS)

Support

Wireless Intrusion Prevention System (WIPS)

Support

Remote probe

Support

IPv4 address

Static IP address or DHCP reservation

IPv6 address

Manual or automatic configuration

Multicast

Multicast to unicast conversion

Wireless position tracking

Support

Network management

SNMP v1/qav2C/v3, Telnet, TFTP, Web management

Visualized wireless heat map analysis

Support

Real-time spectrum analysis

Support

Fault detection and alarm

Support

Statistics and logs

Support

FAT/FIT switching

The AP working in FIT mode can switch to the FAT mode through the RG-WS wireless AC.
The AP working in FAT mode can switch to the FIT mode through a local console port or Telnet.

Safety Standard

GB4943
EN/IEC 60950-1

Dimensions (W x D x H) (mm)

116 × 86 × 42

Weight

0.23kg

Installation Mode

Standard 86-type faceplate installation

Power Supply

Not Include

PoE (802.3af), Local DC power supply

Power Consumption

<8W

Temperature

Operating Temperature:
-10°C to 45°C
Storage Temperature:
-40°C to 70°C

Humidity

Operating Humidity:
5% to 95% (non-condensing)
Storage Temperature:
5% to 95% (non-condensing)

ประกัน

3 ปี
High-performance 802.11ac Wall AP
The Ruijie RG-AP130(W2) Wall AP adopts a dual-radio, dual-band design and supports concurrent operation of 802.11a/n/ac and 802.11b/g/n. The Wall AP provides 4 1000Mbps or 100Mbps RJ-45 ports and 1 RJ-45 transparent Voice/PoE pass-through port (RJ-11 combo). The AP on the rear also offers 1 1000Mbps uplink port and 1 RJ-45 transparent pass-through port (RJ-11 combo). The dual-band 2.4G and 5G coverage can achieve a concurrent coverage supporting 2 spatial streams, providing an unparalleled network experience.
MU-MIMO Support
The wall-mountable RG-AP130(W2) supports the MU-MIMO feature. Most single-stream end devices only utilize half of the resources of the dual-stream RG-AP130(W2) Wall AP with the other half left unused. The wasted AP resources will stagnate the enhancement of user experience. With the MU-MIMO feature, RG-AP130 (W2) makes full use of the AP resources and is capable to serve two end devices concurrently, improving the user experience.
Simplified Deployment
The RG-AP130(W2) Wall AP adopts a wall-mounted design with 2-step easy deployment:
Step 1: Remove the original 86-type faceplate from the wall.
Step 2: Directly install the plug-and-play Wall AP and connect with original UTP cable (PoE).
This breaks through traditional wireless network construction methods by reusing existing network cables and minimizes the impact of network construction in hotel or similar settings. As no additional cabling is required, the Wall AP delivers maximum business agility and investment protection. Ruijie also offers a wide range of optional accessories to meet your unique deployment needs.
Stylish Casing in Different Colors
The RG-AP130(W2) Wall AP offers a collection of colorful covers to accommodate various interior design styles. You can select the best fit from gold, white, black and silver.
Full Signal Coverage
Traditional APs are installed in corridors and the indoor network signals are weak or even completely degenerated after wall penetration. The RG-AP130(W2) Wall AP, on the other hand, can be installed inside the room and hence ensures full coverage anywhere for the best user experience of voice, video or Internet browsing.
Unified Management of FAT and FIT Modes
The RG-AP130(W2) Wall AP supports both FAT and FIT AP modes, which can be flexibly selected as desired. The Wall AP allows easy upgrade of WLAN to a large-scale network, fully protecting users' investment costs. In the hotel scenario, the deployment involves a large number of guest rooms and so is the amount of APs. AP management of such a large scale is what current hospitality solutions struggle to guarantee. The RG-AP130(W2) Wall AP offers a simple and easy solution to lessen administrator workload. Teaming up with Ruijie's Wireless Access Controllers series, the solution enables centralized AP management and fast troubleshooting. Comparing with traditional SOHO APs, the RG-AP130(W2) Wall AP greatly facilitates O&M personnel to manage the whole wireless network.
Smart Identification of End Devices
The RG-AP130(W2) supports smart identification of end devices, which is capable to identify Apple, Android, PC and other smart mobile end devices.
Comprehensive Security Protection
Industry-leading Double Security Designs
The RG-AP130(W2) Wall AP is manufactured using qualified ABS+PC materials, offering superior shock, pressure and temperature resistance for secure deployment. The specially designed screw protects the AP from malicious damage or theft. The Wall AP and color case also guard against theft with a unique security key. The administrator can manage all the APs using one security key with ease.
User Access Control
The RG-AP130(W2) Wall AP supports a broad library of user authentication methods such as Web, 802.1x, MAC address, and local authentication for customers' choice. It also supports Ruijie's end-to-end BYOD (Bring Your Own Device) Solution, complies with a standard access control system, and strictly defines access control policies in terms of user access, authorization, host compliance check, network behavior monitoring, and network threat defense. All these control measures ensure that users are authenticated before accessing a network and securely enjoy network services.
Full Security Protection
Teaming up with Ruijie's integrated network management system RG-SNC (Smart Network Commander) and RG-WS Wireless Access Controller Series, the Wall AP delivers outstanding security features including Wireless Intrusion Detection System (WIDS), RF interference location, rogue AP countermeasures, anti-ARP spoofing, and DHCP.
Multiple Easy-to-use Authentication Modes
As the key components of Ruijie's intelligent cloud-based RG-MACC platform, the RG-AP130 Series offers secure and optimal network connections that are required in various scenarios. The RG-AP130 Series supports convenient and high-efficiency Protected Extensible Authentication Protocol (PEAP), web portal authentication, SMS authentication, and voucher (QR code) authentication .
Voucher (QR code) authentication is another wireless security highlight, enabled by Ruijie's RG-MACC-SAM platform, which generates one-time or pay-per-use vouchers in recurring or one-time format with time-based policies, streamlining and simplifying the generation and management of QR code or voucher.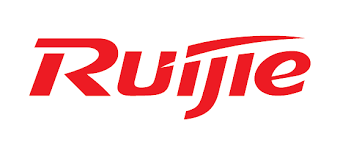 Data sheet
ลักษณะงาน Wireless

กระจายสัญญาณ WIFI

ความเร็ว Wireless

WIFI-5 (802.11ac: 650Mbps+)

ย่านความถี่

Dual-Band 2.4/5GHz

รองรับ Controller

Hardware Controller, Cloud Controller

รองรับ POE

Yes
ทดสอบ Performance 100 Concurents Video Streaming และ ประสิทธิภาพในการทำ Roaming
Ruijie Ultra-high density Wi-Fi project with 1000 unit Smart Phone
Ruijie Wi Fi 6 Killer AP820 LV2 Unbox & Speedtest 762/912 Mbps
Ruijie Cloud: Perfect Network Solution For SME
Ruijie Cloud Site Survey Planner (SSP) Overview
Ruijie AP Quick Provisioning
Ruijie Cloud Deployment Quick Start
ตารางเปรียบเทียบ ระหว่างอุปกรณ์ Ruijie vs Reyee
Feature

Ruijie Enterprise

Reyee

Ruijie Cloud

Support

Support

Mobile App

Support

Support

Presales Tools

Support

Support

Fast Provisioning

QR-code Device Scan/ Cloud Config Sync

Self-organizing network (SON)

Monitoring & Alarm

Support

Support

Device Management

Additional:
RRM, Web CLI, Configuration Mgmt (Backup/Restore)

Basic

Gateway Management

Additional:
L7 DPI Analysis
WAN Load Balancing
App Cache

Basic

Multi-tenant

Support

Support

Scenario-based

Config Wizard

N/A

Support (App)

WLAN

Standard

Wi-Fi4 /5 /5 Wave2 / 6

Wi-Fi 5 Wave2 , 6 (Roadmap)

Capacity

Max Client 1024 (Wi-Fi 6)

Max Client 128

WLAN Auth

802.1x Auth
CustomizedPortal
PPSK, Voucher, Account, Facebook, SMS OTP

PSK/WPA2
BasicPortal (Reyee Gateway)

WLAN Features

Adv CLI script configuration
WIDS(Rogue AP detection)
WirelessRadio Analytics (RRM)
Location tracking (LBS)
Bluetooth (BLE) support
Speed Limit Per Client
Speed Limit Per SSID

Basic

WLAN Controller

(Appliances)

Yes
RG-WS6000 Series (upto 6400 AP)

Yes
RG-NBC Series (up to 500 AP)

Switches

Capacity

Chassis model option (upto 48 10GE)

Box Switches model (upto 24GE +10G uplink)

L2

IGMP Snooping, MSTP, LACP VLAN, Link Aggregate, SuperVlan, VoiceVlan, ACL

VLAN
Link Aggregate
ACL

L3

IPv6, RIP, OSPF, PBR, VRRP

N/A

Security / Availability

802.1x, CPP/NFPP, REUP, VSU

N/A

Management

Managed with Web & CLI (Console port), SSH, SNMP

Web Smart Managed & Unmanaged