 
Reyee RG-RAP1261 Wi-Fi 6 AX3000 Ultra-Thin Wall Plate Access Point
Reyee RG-RAP1261 Dual-Band Gigabit Ultra-Thin Wall Plate Access Poin มาตรฐาน WIFI6 AX3000, 2 Port Lan Gigabit รองรับการ Managed แบบ Stanalone, Free Cloud Control, Hardware Controller
Review Ruijie Cloud ระบบ Managed & Monitor อุปกรณ์ Ruijie ผ่าน Cloud
แนะนำการเลือกใช้งาน Reyee Access-Point RAP Series
Review Ruijie Cloud ระบบ Managed & Monitor อุปกรณ์ Ruijie ผ่าน Cloud
Ruijie Reyee App Implementation Cookbook Release 7.x (V1.0)
Ruijie Reyee RG-RAP1261 Access Point User Manual (V1.0)
Ruijie Reyee RG-RAP Series Access Points Web-based Configuration Guide, Release ReyeeOS 1.219 (V1.2)
Reyee Series Implementation Cookbook V1.0
RG-RAP1261, Reyee Wi-Fi 6 AX3000 Ultra-Thin Wall Plate Access Point
Highlight Features
Dual-radio performance, gigabit wireless wall-mounted AP
Better experience with Cooling Patent Technology
Easy installation, 86mm standard compatible
Capable of Reyee Mesh and 802.11K/V
Powerful Standalone Portal via Ruijie Cloud
Overview

Reyee RG-RAP1261 Dual-Band Gigabit Ultra-Thin Wall Plate Access Poin มาตรฐาน WIFI6 AX3000

2 Port Lan Gigabit

รองรับการ Managed แบบ Stanalone, Free Cloud Control, Hardware Control

Hardware specifications

Wi-Fi Standards

802.11a/n/ac/ax
802.11b/g/n/ax

MIMO

2.4 GHz, 2x2, MU-MIMO
5 GHz, 2x2, MU-MIMO

Max. Data Rate

2.4 GHz: 574 Mbps
5 GHz: 2402 Mbps

Number of Antennas

5

Antenna Type

Built-in omnidirectional antennas

Antenna Gain

2.4 GHz: 1.6 dBi;
5 GHz:: 4.13 dBi
Note: The peak gain mentioned above refers to the gain of a single antenna.

Transmit Power

2.4 GHz: 20 dBm
5 GHz: 30 dBm
Note: The transmitted power may vary based on local laws and regulations.

Fixed Ports

1 x 10/100/1000Base-T Ethernet uplink port
1 x 10/100/1000Base-T Ethernet downlink ports
1 x Reset hole

Max. Number of Concurrent STAs

512

Recommended Number of Concurrent STAs

110

Max. Number of SSIDs

8

Supported Frequency Bands

802.11b/g/n/ax: 2.400 GHz to 2.483 GHz
802.11a/n/ac/ax: 5.150 GHz to 5.350 GHz, 5.470 GHz to 5.725 GHz,
5.725 GHz to 5.850 GHz
Note: Country-specific restrictions apply.

Software Features

Power Adjustment

Support

Channel Bandwidth

2.4 GHz: Auto/20 MHz/40 MHz
5 GHz: Auto/20 MHz/40 MHz/80 MHz/160 MHz

Roaming

Layer 2 roaming
Layer 3 roaming
802.11k/v roaming

OFDMA

Support

Beamforming

Support

Wi-Fi Multimedia (WMM))

Support

Radar Signal Detection and Frequency Hopping (DFS)

Support

WLAN Security

Security Mode

WAP-PSK, WAP2-PSK, and WPA-WAP2-PSK

Blocklist and Allowlist

Support

Enhanced User Experience

Wi-Fi Optimization

Support

Removing Low-RSSI STAs

Support

Syslog Recording Why Users Lose Connection

Support

Auto Channel and Power Adjustment on Cloud

Support

RSSI Threshold for STA Access

Support

Load Balancing

Support

Networks

Network Access Mode

PPPoE Client
DHCP Client
Static IP

Avoidance of WAN IP Address Conflicts

Support

VLAN

Port-based VLAN
VLAN over 802.1Q
TV projection screen

DHCP Server

Support

System

Management

Cloud Management
App Management

App Upgrade

Support

App Restart

Support

Scheduled Restart

Support

Default Access/Password

10.44.77.253 (No password required by default.)

Upgrade

Local Upgrade
Online Upgrade

Backup

Support

Factory Reset

Support

Diagnostics

Support

Network Check

Support

Hardware Features

LED

1 x System status LED

Reset Hole

1 x Reset hole

Dimensions (W x D x H)

86 mm x 86 mm x 42.4 mm (3.39 in. x 3.39 in. x 1.67 in.)

Weight

0.16 kg (without the mounting bracket)

Power Supply

IEEE 802.3af/at PoE

Max. Power Consumption

10.2 W

Environment

Operating Temperature

0°C to 40°C (32°F to 104°F )

Storage Temperature

–40°C to +70°C (–40°F to +158°F )

Ingress Protection Rating (IP Rating)

IP41

MTBF

400,000 hours

รับประกัน

3 ปี
RG-RAP1261 AX3000 Dual-Band Ultra-Thin Wall Plate Access Point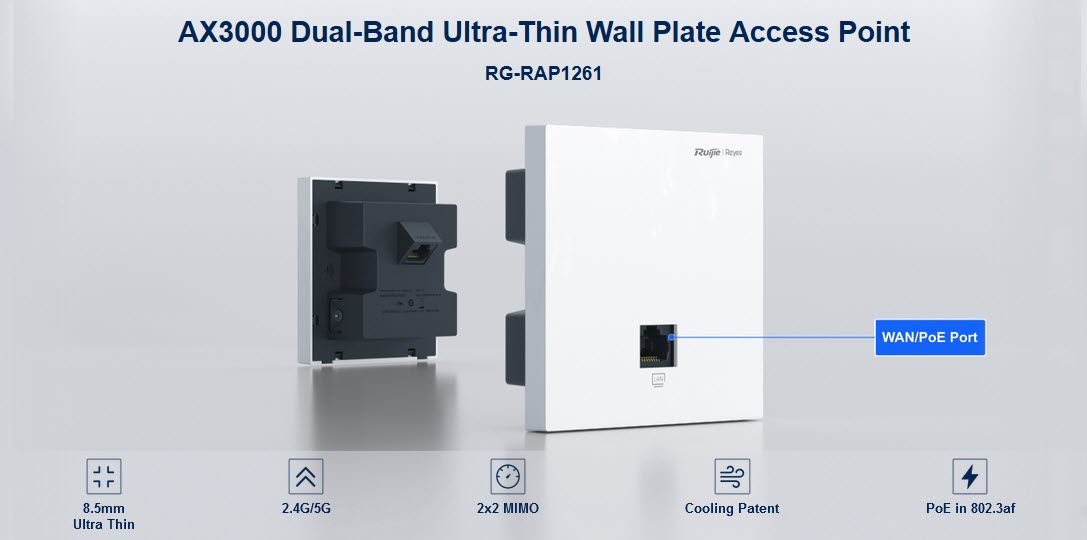 Experience Wi-Fi 6, Experience Gigabit Internet
New upgrade to AX3000, Speed Test reaches 950Mbps, delivering the fastest possible internet experience.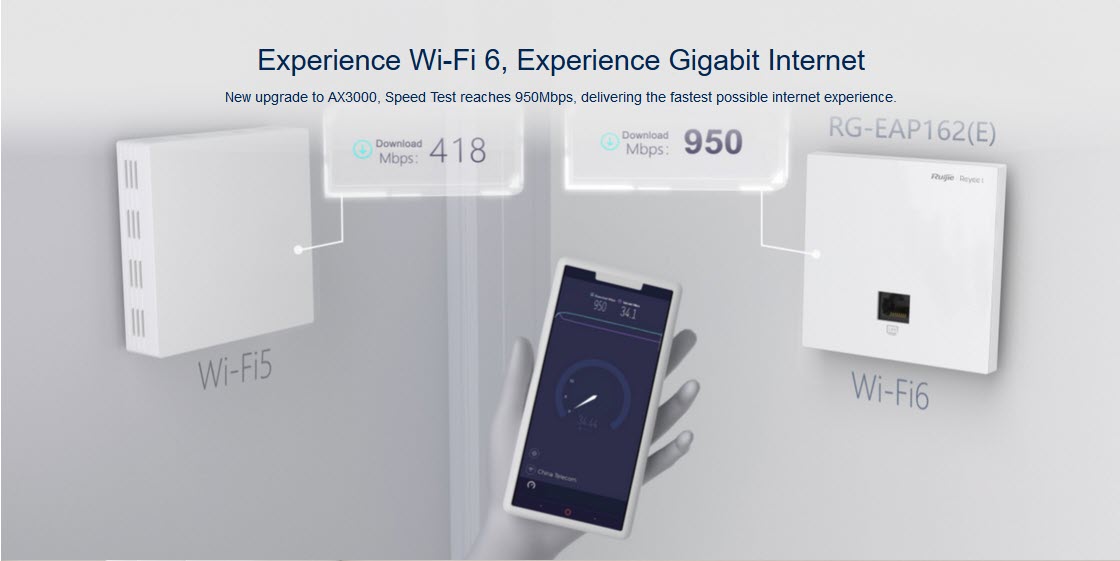 Easy Installation, Worldwide Compatible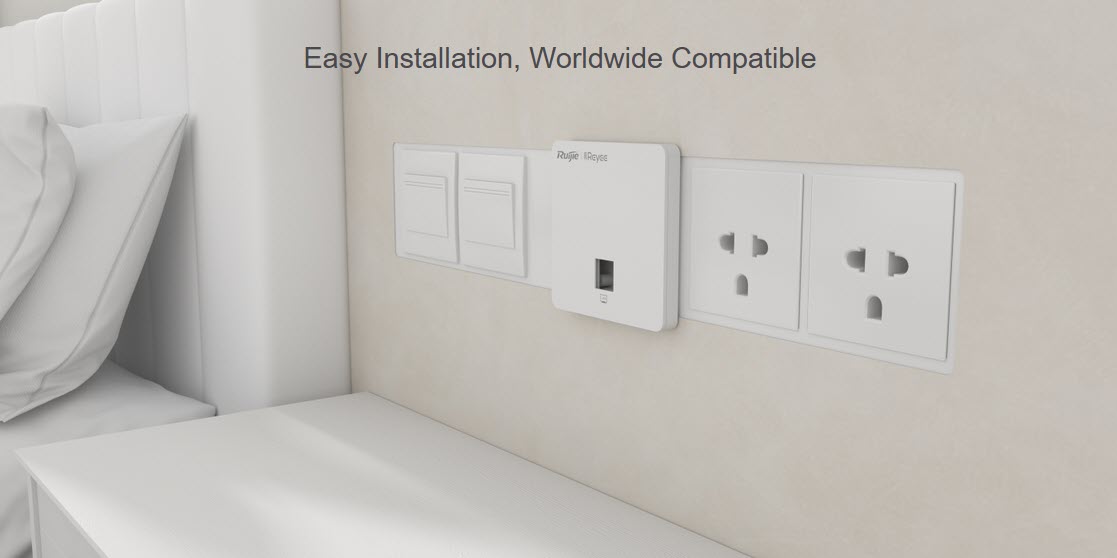 Unprecedented Thin Design with 8.5mm with Patent Technology,
Thinner, Cooler, Stronger. Averagely reduced 7°C in working mode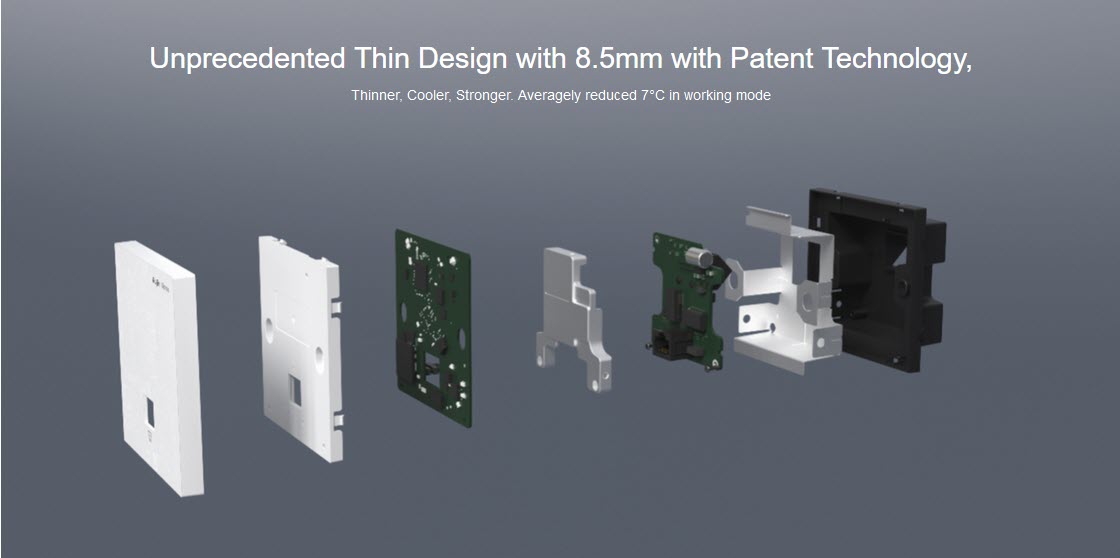 Secure Access Internal Device Remotely
No matter dynamic or even private IP on gateway WAN port, Securely monitoring the NVR/IPC/Internal Server anytime from anywhere.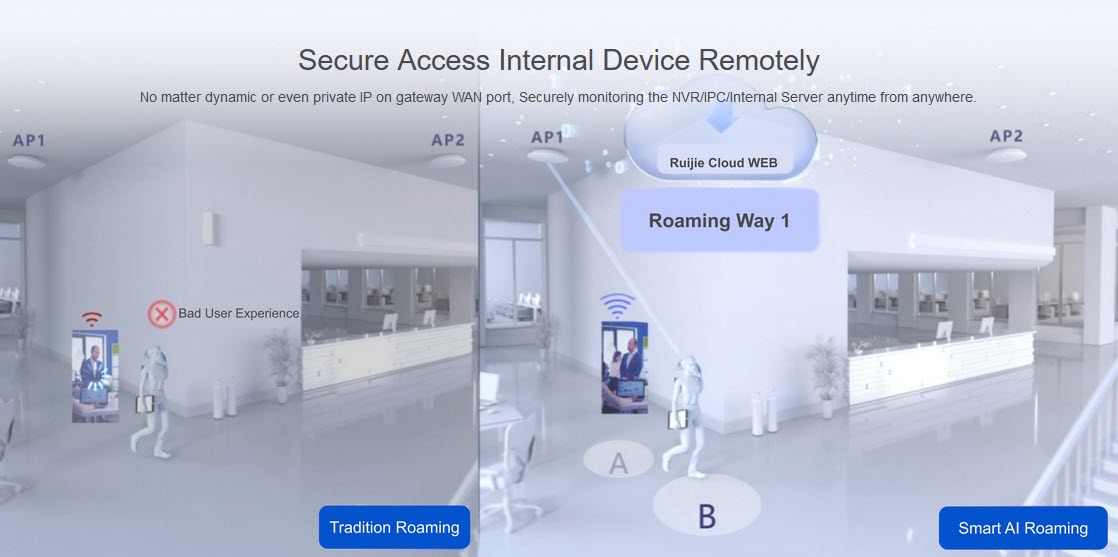 Cloud, Make Your Business Easy
Reyee free DDNS
Cloud portal authentication
Remote monitoring and maintenance
Upgrade firmware via Cloud
APP library dynamic update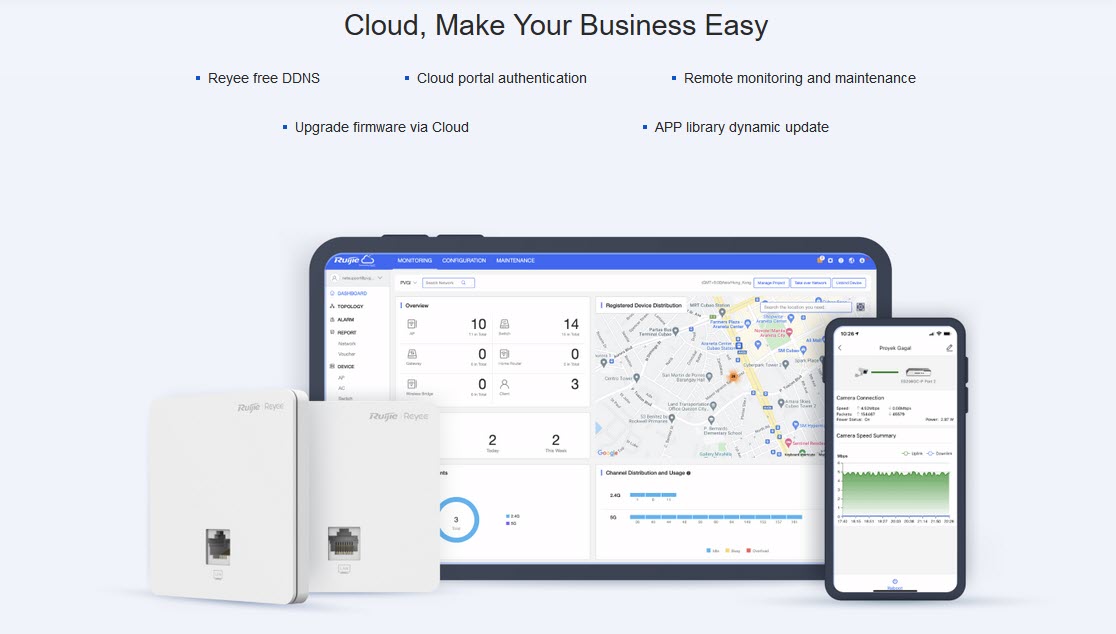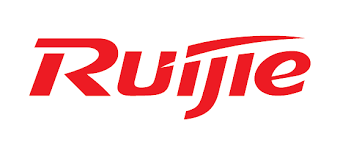 Data sheet
ลักษณะงาน Wireless

กระจายสัญญาณ WIFI

ความเร็ว มาตรฐาน WIFI

WIFI-6 (ax) 1.7Gbps+

ย่านความถี่

Dual-Band 2.4/5GHz

รองรับ Controller

Cloud Controller, Hardware Controller

รองรับ POE

Yes
ทดสอบ Performance 100 Concurents Video Streaming และ ประสิทธิภาพในการทำ Roaming
Ruijie Ultra-high density Wi-Fi project with 1000 unit Smart Phone
Ruijie Wi Fi 6 Killer AP820 LV2 Unbox & Speedtest 762/912 Mbps
Ruijie Cloud: Perfect Network Solution For SME
Ruijie Cloud Site Survey Planner (SSP) Overview
Ruijie AP Quick Provisioning
Ruijie Cloud Deployment Quick Start
ตารางเปรียบเทียบ ระหว่างอุปกรณ์ Ruijie VS Reyee


Feature

Ruijie Enterprise

Reyee

Ruijie Cloud

Support

Support

Mobile App
(รองรับ iOS และ Android)

Support

Support

Review Ruijie Cloud ระบบ Managed & Monitor อุปกรณ์ Ruijie ผ่าน Cloud

Presales Tools
(ระบบการขาย เช่น BOM, การคำนวนกำลังไฟ POE, Report)

Support

Support

Fast Provisioning
(การเพิ่มอุปกรณ์ขึ้น Cloud))

Scan QR-code Device
Cloud Config Sync

Self-organizing network (SON)
Scan QR-code Device

Monitoring & Alarm

Support

Support

Device Management

Additional:
RRM
Web CLI
Telnet/SSH
Configuration Mgmt (Backup/Restore)

Basic
Web Config
Cloud Config

Gateway Management

WAN Load Balance
Block Web
Block Bittorrent
App/Web Control L7 Filter
L7 DPI Analysis
App Cache
Sub-Interface VLAN (802.1Q)
VPN L2TP, PPTP, IPSecs
Bandwidth Management
ACL
EWeb Tunnel (Remote Config ผ่าน Cloud)


WAN Load Balance
Block Web
Block Bittorrent
Sub-Interface VLAN (802.1Q)
VPN L2TP, PPTP, IPSecs
Bandwidth Management
ACL
NO-IP, DDNS
EWeb Tunnel (Remote Config ผ่าน Cloud)


Gateway Authen

Local Authen (Captive Portal)
Sync with Cloud Auth (Captive Portal)
Web Audit (เก็บ Log การเข้า Website)


Local Authen (Captive Portal)
Sync with Cloud Auth (Captive Portal)
QR-Code Auth

Review Ruijie RG-EG3230/RG-EG3250 Loadbalance Gateway
Review Reyee Gateway RG-EG210G-E แบบ Full Test

Multi-tenant
รองรับการจัดการ Project จากหลาย Account

Support

Support

Scenario-based
Config Wizard

N/A

Support (App)

Wireless

Standard

WIFI 4 (n)
WIFI 5 (ac)
WIFI 5 Wave2 (ac)
WIFI 6 (ax)

WIFI 5 Wave2 (ac)
WIFI 6 (ax)

Capacity

Max Client 1024 (Wi-Fi 6)

Max Client 128

WLAN Auth

802.1x Auth
PPSK
Customized Captive Portal
Voucher, Account, Facebook, SMS OTP

PSK/WPA2
Basic Captive-Portal (ต้องใช้ร่วมกับ Ruijie/Reyee Gateway)


Review Ruijie Cloud WIFI Authentication ระบบ Login เข้าใช้งาน Internet

WLAN Features

L2/L3 Roaming
Adv CLI script configuration
WIDS(Rogue AP detection)
Wireless Radio Analytics (RRM)
Location tracking (LBS)
Bluetooth (BLE) support
Speed Limit Per Client
Speed Limit Per SSID

L2 Roaming
Wireless Load Balance
Basic Feature

WLAN Controller
(Appliances)

Yes
RG-WS6000 Series (upto 6400 AP)

Yes
RG-NBC Series (up to 500 AP)

Switches

Capacity

Chassis model option (upto 48 10GE)

Box Switches model (upto 24GE +10G uplink

L2

IGMP Snooping
MSTP
LACP VLAN
Link Aggregate (LACP)
SuperVlan
VoiceVlan
ACL
DHCP Snooping
Port Isolate

VLAN
Link Aggregate (Static)
ACL
DHCP Snnoping
Port Isolate

L3

IPv6, RIP, OSPF, PBR, VRRP

N/A<

Security / Availability

802.1x, CPP/NFPP, REUP, VSU

N/A

Management

Managed with Web & CLI (Console port), SSH, SNMP

Web Smart Managed & Unmanaged
ตารางเปรียบเทียบข้อมูล
Reyee RG-
RAP S
eries Access Point
Model
สัญญาณครอบคลุม
จำนวน Clients ที่แนะนำ
มาตรฐาน WIFI

802.11b/g/n/ac

802.11b/g/n/ac

802.11ac wave2
802.11a/b/g/n

802.11ac wave2, wave1
802.11a/b/g/n

802.11ax
802.11ac wave2
802.11a/b/g/n

802.11ax
802.11ac wave2 802.11a/b/g/n

ความเร็วสูงสุด (2.4GHz)
ความเร็วสูงสุด
(5GHz)
กำลังส่งสูงสุด
(2.4G)
กำลังส่งสูงสุด
(5G)
จำนวน SSID

Spatial Streams

2.4G: 2x2 MIMO
5G: 2x2 MIMO

2.4G 2x2MIMO
5G 2x2MIMO

2.4G 2x2MIMO
5G 2x2MIMO

2.4G 2x2MIMO
5G 2x2MIMO

2.4G 2x2MIMO
5G 2x2MIMO

2.4G 4x4 MIMO
5G 4x4 MIMO

Antenna

PCB antenna

PF antenna
2.4G: 2dBi
5G: 2dBi

Array antennas 2.4G: 2dBi
5G: 2dBi

Array antennas
2.4G: 2dBi
5G: 2dBi

Internal antennas 2.4G: 3dBi
5G: 3dBi

Internal antennas 2.4G: 3dBi
5G: 3dBi

Service Ports

Front:
1 Port 10/100Mbps Ethernet port

Rear:
1 Port 10/100Mbps, Support PoE

Front:
4 Port 10/100/1000 Mbps
LAN1 port supports 802.3af PoE

Rear:
1 Port 10/100/1000Mbps

2 Port 10/100 Mbps PoE/LAN1 port supports PoE

2 Port 10/100/1000 Mbps
PoE/LAN1 port supports PoE

2 Port 10/100/1000 Mbps
PoE/LAN1 port supports PoE

1 Port 10/100/1000M/2.5G supports PoE;

1 Port 10/100/1000Mbps

SON Number
Power Supply

PoE 803.1af

PoE 803.1af

PoE 803.1af
DC 12V 1.5A

PoE 803.1af
DC 12V 1.5A

PoE 803.1at
DC 12V 1.5A

PoE 803.1at
DC 12V 1.5A

Port Aggregation
VLAN
Port Base VLAN

Support

Support

Not Support

Not Support

Not Support

Not Support

DHCP Snooping
ARP Check
IP Source Guard
LLDP

Not Support

Static ARP Bind

Support

ARP Proxy

Support

Ping

Support

Traceroute

Support

NAT

Support

Static Route

Not Support

DHCP Server

Support

Telnet

Not Support

SSH

Not Support

รองรับการจัดการผ่าน Ruijie Cloud

Support

รองรับการจัดการผ่าน Ruijie Cloud APP

Support

802.1x

Not Support

PPPoE
Same SSID with differnet VLAN
Same VLAN with differnet SSID
L2 Roaming
L3 Roaming

Support

Global whitelist/blacklist

Support

SSID-based whitelist/blacklist

Support

Wireless bridge

Not Support

PoE Out

Not Support